On September 22nd the new Microsoft Office 2016 suite was released and includes new versions of
While there are a few new, helpful features in each program the main points of functionality are sharing and accessing documents from anywhere, on any device and facilitating in better productivity within the workplace.
The simple sharing function allows the owner of a Word document, Excel sheet or Power Point presentation to:
1. Share the file with specified co-workers,
2. Allow those co-workers the ability to edit the shared files
3. Monitor the work being done on those shared files
4. All
with one click.

With that click, shared documents go to the specified users in OneDrive or SharePoint and can be edited freely by group members at any time. Co-authoring allows everyone who has access to the file to work on it at the same time and the edits are seen simultaneously.

There is also an improved document history. Viewers can check the edit history on any given document and compare a screen shot of the changes made to the document during any given editing session. This improvement allows the author to restore the document to the previous version for any reason they might need. This also allows the owner to change the input back while leaving the other changes the same.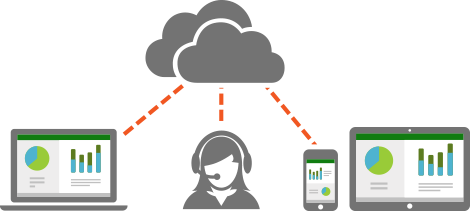 OneDrive for Business is not a new feature, however it is essential to making Office 2016 work to its fullest potential by sharing documents not only to other computers, but also to mobile devices through the cloud.
When a business is connected through OneDrive any of the Office mobile apps have access to documents for editing, allowing an easy cross-device transition from working on a Windows device to an Android to any Apple device.

OneDrive also is available with various Cloud storage sizes for different business packages -- right for company sizes varying from small to large. The mobile apps operate best when linked within Windows 10 making them: touch friendly and enhanced for on-the-go productivity.

Another helpful sharing feature within Office 2016 is its link with Skype for Business. This app offers instant messaging (IM), voice, video or screen sharing; allowing presentations to be seen in real-time from any device when the presenter shares the viewing permissions through the application; allowing clients and coworkers from all over the world or in the same building - to view the same presentation.
Microsoft Office 2016 has created new ways to work from the office or anywhere.
References:
https://support.office.com/en-nz/article/What-s-New-and-Improved-in-Office-2016-95c8d81d-08ba-42c1-914f-bca4603e1426?ui=en-US&rs=en-NZ&ad=NZ