Running your own business is hard work – seriously hard work. Especially when you start mixing in technology and learning curves that go along with technology. Many small business owners often place their technology and IT department on the back burner.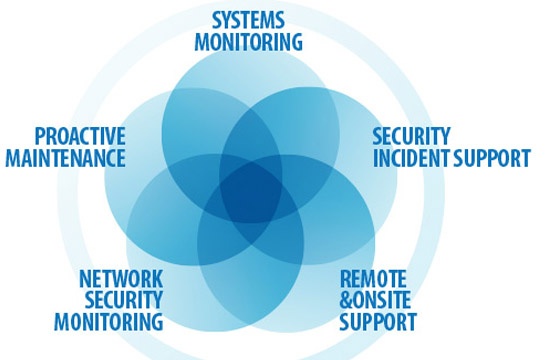 Does this sound like you? You're wondering if the benefits will outweigh the costs of managed IT services and you question what the breaking point will be before you have to break down and hire someone to handle the IT services for your company. You might even cringe at the thought of bringing in a third party provider.
Let's discuss your options. What do you need to ask yourself right now before hiring a managed IT service provider?
13 Questions to ask yourself before making the switch to Managed IT Services
Is your network downtime increasing?
Does your business rely on internet access?
Have you recently hired someone to fix IT problems that could have been prevented if someone had been in charge of your technology?
Are your IT costs increasing?
In the event of a disaster, would data recovery be an issue?
Is your network and work station speed decreasing?
Is it difficult to maintain a quality IT staff?
Does your network get viruses, spyware, spam, and other security risks?
Have you lost data because of faulty backups or no backup at all?
Are you or your employees spending more time dealing with IT issues rather than your jobs?
Would you like a fixed monthly fee for IT services?
Is your current IT technology making you look unprofessional to your customers?
Are you in compliance with the Massachusetts standards for the protection of personal Information (201CMR17)?
If you answered yes to one or more of the above questions, your business is ready for Managed IT Services.
Taking the next steps with Managed IT Services
The most important piece of advice when looking for a managed IT service provider is to find someone that's willing to listen to your needs first. Once a managed IT service provider understands the goals of your company and what problems to fix and manage, your company will have a better idea of the costs and how to make your business grow with Technology. Allow the expertise of a Technology Business Advisor to pinpoint security issues and other technology problems your network may have and help you maximize your productivity.
Tips for finding a Managed IT Services Company
1) Find an IT company you trust, not just the one with the cheapest prices.
2) Make sure you read any fine print and understand your contract completely.
a) If your SLA (service level agreement) offers a 1 hour response time, make sure it's in writing.
3) Make sure you choose services you need, not just the ones recommended.
4) Make sure the monthly fee will cover all or most of your needs
5) Ask as many questions as you need to understand what you are getting before signing the contract
6) Find a managed IT company that's partnered with trusted brands and reputable companies
The Cost of Managed IT Services?
The whole goal of outsourcing your IT managed services is to save money and give you the freedom to run your business. Set a budget and shop around. It makes sense to shop around for the best fixed monthly pricing. However, it's also important to remember there's no "one-size-fits-all" solution. Each managed IT service provider will have their own set of strengths and weaknesses. Finding the right managed service provider can take time. A company that does not have certified IT technicians will probably charge you less, however the errors and lack of experience caused by those techs could end up costing you more.
Signs of a Good Managed Service Provider
The right Managed IT Service provider will meet with you at your business and listen to your needs and work within your budget. They will offer custom tailored solutions that fit your business.
24/7 Support. One of the best things about having managed IT services is the availability of a team of experts on hand. You need your IT problems resolved fast? This is the solution. Technical support only when you need it – costs are fixed.
Stay within your Budget. Having a managed IT service provider gives your business an IT budget that is mapped out before any contract is signed. Planned projects are discussed and scheduled for within your businesses budget and restraints.
Teamwork. One of the biggest advantages of having an outsourced managed IT service provider is benefiting from a team. You simply cannot let your technology needs depend on one person alone. You need a team of IT professionals that collectively have certifications in every technology. There's always a specialist team to work on your projects and get them done professionally and on schedule. You'll always be in compliance with your state and local business regulations and your business goals will be in their best interest.
Get a Great Managed IT Services Provider in Boston – NSK Inc - IT Managed Services Boston, MA
Now that you've determined why you need IT managed services, we invite you to learn more about hiring NSK Inc for your managed IT services.
We are your cost-effective IT solution. We have been helping small businesses in Massachusetts and Boston Area grow and keep up with technology needs for the past 20 years.
We're happy to assist you and meet with you at your business to listen to your needs and create a custom tailored plan of action. We want to help your business grow and meet your goals.