Although CES is a conference for Consumer Electronics, the annual tradeshow is known for being the launching ground for numerous technologies that have ended up at the enterprise level. Notables include the VCR in 1970 and the Commodore 64 in 1982. So what new technology can organizations expect to see launched at CES 2011?
Every reporter, blogger, and analyst is saying that this will be the showdown for tablet computers. In fact, a recent post from The Washington Post stated that "About 80 tablets will be featured ….. as competitors Samsung, Toshiba, Vizio and Motorola release their versions of the touch-screen wireless mini computers."
I have highlighted three tablets that may be making a splash in the enterprise market in 2011.
BlackBerry Playbook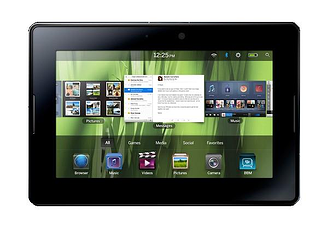 For my first choice, I'm going to say that of the new tablets launching this year, the BlackBerry® Playbook is probably the strongest contender for business implementation. RIM states that the Playbook is built for business.
Out of the box, the tablet automatically syncs with BlackBerry® Enterprise Server. Users can also wirelessly sync their BlackBerry phones to the tablet to sync emails, calendar events, and even use the phone's 3G connectivity (eliminating the need for an additional data plan).
IdeaPad Slate by Lenovo
Lenovo, known for their ThinkPad business laptops, is going to premiere the IdeaPad Slate. The tablet, which was quickly reviewed by Wired.com features Windows ® 7 Home Premium and is estimated to be within the $ 500 price range.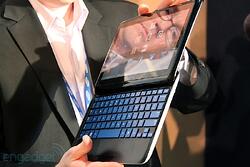 I am unsure if Lenovo will release a tablet that runs Windows ® 7 Professional like the HP Slate (which was premiered at last year's CES, yet we haven't heard much about that one). However with a sticker price of around $ 500, small businesses may see the IdeaPad as a way to start implementing tablets on a budget.
Motorola Honeycomb Tablet
It will be interesting to see if the upcoming
Motorola "Honeycomb" Tablet
will play out. Honeycomb is the latest version of Android (Version 3.0) that hasn't been officially released yet, but will be on the new Motorola Tablets.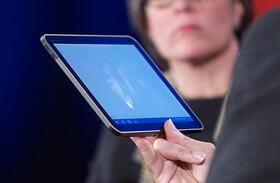 As it is, Android and Motorola seem to be making strides to break into the business market. The Motorola Droid Pro was released to move current BlackBerry users over to Android by providing a VERY similar interface and body.
P.S. – The Honeycomb offers support for both 3G and LTE (4G) – haven't seen that advertised a lot yet.