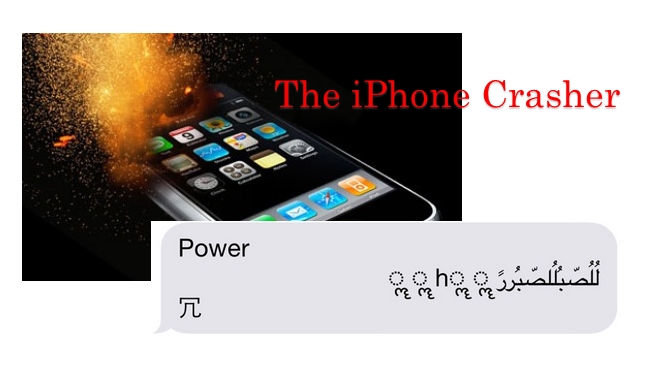 Imagine being able to crash someone's iPhone easily, remotely and at your own convenience. Sounds impossible, right? Or at the very least, improbable. But the internet always finds a way. A malicious method to crash others' iPhones has appeared on Reddit, unleashed into the wild.
That Reddit thread's first post was removed by moderators, probably to stop people from easily replicating the destructive message and spreading the chaos even further.
Fortunately, upon crashing, the iPhone will (or should) immediately respring. A much preferable alternative to an eternal bricking.
Even so, the ability to mess with others' phones so effortlessly is dangerously troubling.
When someone receives a certain string of characters in their Messages app, the iPhone crashes and resprings. The string in question contains a variety of Unicode characters and Arabic symbols.
The most highly rated post in the Reddit thread, by user sickestdancer89, attempts to explain the complicated scenario:

Just as the Reddit user says, the ball is in Apple's court now. Luckily, they seem keen on the issue and are working on a fix to be bundled with a software update. Until then, they offer steps for a temporary solution:
Ask Siri to "read unread messages."
Use Siri to reply to the malicious message. After you reply, you'll be able to open Messages again.
In Messages, swipe left to delete the entire thread. Or tap and hold the malicious message, tap More, and delete the message from the thread.
Other reported solutions include replying to the malicious text message with a message of your own to clear away the crashing. You can also try telling Siri to send a message to yourself, and then replying to it.
Until the decisive software update is out, iPhone users affected by malicious messages will have to rely on Siri and other temporary fixes. For the time being, it may be prudent to pre-emptively block any people, friends or otherwise, whom you suspect may try sending you this string if they find out about it.
---
Sources: http://www.macrumors.com/2015/05/26/ios-bug-crashing-iphones-with-text-message/
http://www.macrumors.com/2015/05/28/apple-temporary-text-bug-fix/
http://www.reddit.com/r/apple/comments/37enow/about_the_latest_iphone_security_vulnerability/?sort=confidence
https://support.apple.com/en-us/HT204897
http://www.theweek.co.uk/politics/20203/exploding-iphones-set-france-alight