As the release date (July 29) of Windows 10 approaches, both consumers and businesses are certainly wondering what happened to Windows 9. Some may even ask themselves if they missed its release. Of course, this is not the case. There is a myriad of theories surrounding Microsoft's decision regarding what to name their upcoming operating system from nine being an unlucky number in Japanese culture (Japan is a popular
consumer of
Microsoft products) to avoiding confusion with versions of Windows 8 that have been modified by third parties. Nonetheless, there does not appear to be one identifiable reason for the choice of name, and more likely, there are a collection of valid explanations. It is, however, probable that one of these reasons was to allow Microsoft to distance itself from the user interface concerns of Windows 8. Windows 10 will likely be a fresh reimagining of the resilient operating system that utilizes classic components while remaining both innovative and contemporary.
Although the now fictional Windows 9 will never get a chance to demonstrate its value, it is evident that Microsoft certainly has put far more into Windows 10 than merely improving the individual user's experience. In fact, there will be multiple editions of the new operating system. Microsoft has introduced Windows 10 Home, Windows 10 Pro, and Windows 10 Enterpise. Both Windows 10 Home and Windows 10 Pro will be free upgrades on approved Windows 7 and Windows 8.1 devices. Windows 10 Enterprise will be a free upgrade for solely
Active Software Assurance customers.
Additionally, Windows 10 Mobile will be released, but Microsoft has invested significant time and attention into ensuring a fluid experience when transitioning between devices that may prevent the user from even noticing that they are using an additional operating system. Windows apps will be universally available on all devices and will include a standard functionality. Furthermore, Windows 10 Mobile on some new devices will allow customers to essentially use their phone as a PC when they are connected to their desktop.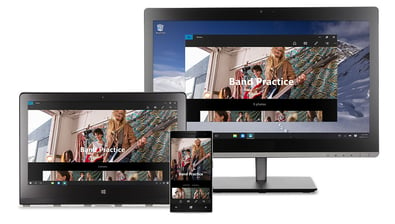 Features such as multi-device integration become even more practical when exploring the new business applications of Windows 10. Both Windows 10 Pro and Windows 10 Enterprise introduce countless new features for businesses of all sizes. Not only will these features modify the approaches of individual IT professionals, but they will almost certainly affect how Managed IT Service Providers utilize Microsoft products as they reduce the necessity for a one-size-fits-all solution. Among these new approaches will likely be the usage of the new customizable quality of Windows 10.
Microsoft has explicitly labeled their new enterprise services as "Windows 10 for Business" and indicated a targeted focus on deployment, manageability, and security. In terms of deployment, Windows 10 for Business allows for the devlopment of a standardized configuration for all devices that makes it easier and safer for new devices to join a business network and access important applications and services. Microsoft's Windows 10 business initative also creates a more manageable environment for prescribing organizations using two services called Azure Active Directory and Active Directory. Users can log in to Azure Active Directory in order to operate provided apps and resources. Also, Active Directory authorizes users within a given domain to access Microsoft services such as Office 365 and Microsoft Intune. It is in security, however, that Windows 10 demonstrates the most important new features as well as a capacity to continue to improve. Using both hardware and software solutions, Microsoft has ensured the protection of various forms of business information. Furthermore, users will be able to have their security features updated automatically or on a schedule without needing to update functional features at the same rate. This promotes a seamless user experience while maintaining a secure IT environment.
Overall, Windows 10 overwhelms Windows 8 with its potential to improve the IT environments of countless Microsoft-run businesses. This may have been the logic behind skipping Windows 9, as the changes made to the operating system are far from trivial. Between increased application of cloud technology to a customizable interface, Microsoft has made itself a valuable component of the world of information technology. Heavier integration of Microsoft devices with the Microsoft cloud gives businesses that use innumerable devices a reason to use their products. Additionally, Managed IT Service Providers may find important value in taking advantage of the full capacity of Windows 10. At the very least, Microsoft has put forth a notable effort to ensure that businesses continue to use Windows in general, and it may be the revamped atmosphere promoted by the idea of Windows 10 (rather than 9) that has contributed to this effort.
Sources
http://www.extremetech.com/computing/191279-why-is-it-called-windows-10-not-windows-9
http://www.informationweek.com/software/operating-systems/windows-10-vs-windows-8-10-differences/d/d-id/1319410
http://blogs.windows.com/bloggingwindows/2015/05/13/introducing-windows-10-editions/
http://blogs.windows.com/bloggingwindows/2015/05/04/announcing-windows-update-for-business/
Microsoft. "Windows 10 Partner Frequently Asked Questions." (Jan. 2015): 2. Print.