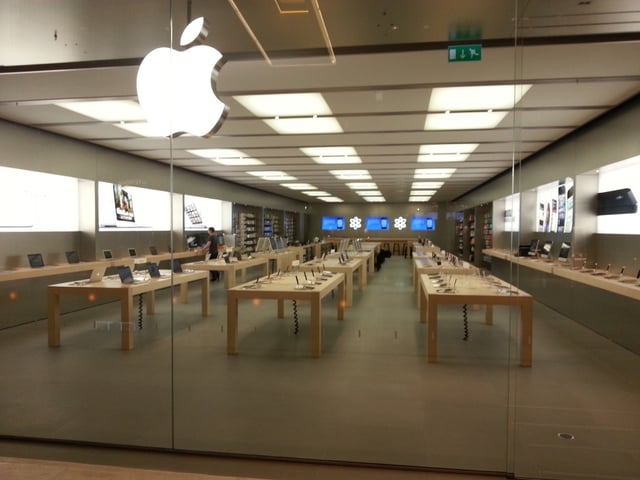 Your local Apple Store may always look crowded with eager customers, but it seems that too many of those customers are leaving empty handed these days. In the past three months Apple has seen a steady decline in sales for products across the board. The end of this quarter marks the second quarter in a row of declining sales and revenue is down 15% compared to sales at this time last year. The sales weren't the only drop in numbers. Apple's stock dropped 8.3% after quarter results were released which only adds to the 20% decline in shares over the last 12 months.
So what could be causing one of the biggest tech giants in the world to take such a hit? According to the New York Times, there could be several factors.
The first is an over-saturated market. Nearly half of the smartphones sold in the United States are iPhones. It's hard to consistently sell a product when the majority of your consumer base already owns it. Toni Sacconaghi, an analyst at the Bernstein brokerage firm, was quoted in the Times saying, "[Apple] grew at astronomical rates, and it's now so big that its ability to grow at those rates doesn't exist anymore."
The second issue is China. What was once Apple's second-most important region saw revenue fall 26% in the last year. Apple blamed the results on declining sales in Hong-Kong where the local currency compared to the US dollar made products more expensive. With most Apple products being north of $600 anyways, it's understandable that people might be holding back.
Lastly, there's the company's recent dry spell. Apple hasn't released a new smart phone since the release of the iPhone 6S in September 2015. Their most recent gadget upgrade is their iPad Pro which boasts a bigger screen and more advanced features designed to make it a replacement for a laptop. While the new iPad seems to be hit, there hasn't been any real jaw-dropping product releases as of late. However, the rumored Fall 2016 release of the iPhone 7 could change that. There has been a lot of speculation around what new features the iPhone 7 will come with. A more advanced camera and the removal of the head phone jack seem to be among the most significant upgrades. I'm sure that when people hear the new iPhone will allow them to take a selfie in low-light, Apple products will start flying of the shelves yet again.
pp
a