As you may or may not know, the end-of-life date of Windows Small Business Server 2003 is July 14, 2015. This means Microsoft will be terminating services for the line, services that provide crucial security updates and patches. This termination will be akin to the Windows XP termination this past April: XP can still run on desktops, but the product is off the shelf both commercially and in terms of Microsoft's internal support; vulnerable, it is a security disaster waiting to happen and generally will not pass regulations. The problems in upgrading a server are similar but far bigger, and the popular mad-dash-switch strategy is not feasible for companies relying heavily on fully-operational 24/7 server activity. The whole infrastructure of a system, in many cases carefully built up over years, needs to be reworked – and this takes time, time that can be born only out of ample foresight. Though the end-of-life for the Small Business Server 2003 is a year away, the question must be asked now: what are we going to do about upgrading?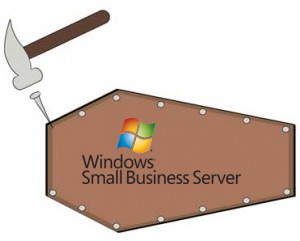 (Image courtesy of blog.zensoftware.co.uk)
The popular option has been to pack up the old, on-premises server and switch to a milder cloud service, and for smaller virtual businesses this might be a good option. At NSK, we are experts with Office 365, Microsoft's newest all-cloud offering. It's a fully virtual Microsoft Office system with unprecedented access flexibility for your desktop, mobile, and tablet. It's got 25 GB of storage per user, full Microsoft office suite, and security features galore. Cloud offers like this generally charge a monthly per user rate, and Office 365 is no exception. You can find more information about price-scales here. And for more details regarding 365's offerings, check out NSK Inc.'s Office 365 page: http://www.nskinc.com/it-services/office-365/

(Image courtesty of Microsoft)
While such a Cloud service is a good option getting better all the time (and is certainly the fashionable option), it may not be the right option. And that's totally okay. Updating servers with new servers is still very viable.

The most current small business Microsoft server is called Windows Server 2012 Essentials. It's highly oriented toward Virtualization, which facilitates a company's move to a more flexible and easily scalable infrastructure by putting the processing load on Microsoft's many processors. Too, the server includes the hippest internet features like "enterprise-class virtualization", cross-platform operability for the dizzying amount of apps we use, and end-user datacenters, not to mention much more space (Terabytes more) and about 16 times more processing power – in short, stuff that makes it a very powerful, top-of-the-line option. This Essentials edition is, according to Microsoft's website, "designed and priced for small businesses with up to 25 users and 50 devices," and is, "an ideal first server that … can also be used as the primary server in a multi-server environment for small businesses."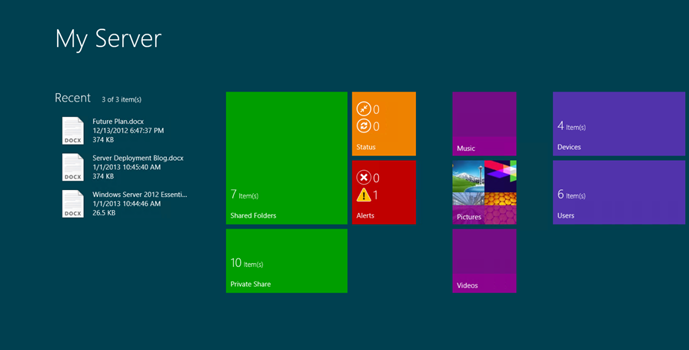 (Windows Server 2012 User Interface: shares a theme with Windows 8)
The biggest Windows server product previous to 2012 was Windows Small Business Server 2008, which, like 2012 R2, introduced a new set of server capabilities. The 2008 saw the beginnings of Virtualization and built-in security options like Bitlocker and Network Access Protection. However, it's not a 64-bit system, which is important to know for compatibility reasons; 2008 R2, an updated release, was the first such server. Both the 2008 and the 2008 R2 have Extended Support until January 14, 2020. Windows Small Business Server 2011 uses the Windows Server 2008 R2 platform, but was split into three editions, each with their own specifications. SBS 2011 Essentials supports a maximum of 25 users and virtualizes some of the traditional "on-premises components" such as Exchange. This is a far less swanky but solid option.
Still not convinced? Here are 7 reasons why moving to the cloud would benefit your business.
Here at NSK, we are experts at all of the above. We can do whatever you would like to do. We will sit down with you and figure out the numbers, help you work through server options that will work best for the specific needs of your company. Does a monthly payment option make sense, or do you want to invest in new servers? Do you expect growth? Increased data demands? From here we can help you make the smart decisions for moving software and technology to your new server option. We make IT work.