Bring Your Own Device - Mobile Management - Security for MDM
We have put together a white paper on the Top 10 Things you should know about managing mobile Devices.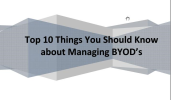 It includes:
How to Create Policies
Keeping Personal and Company information Separate
One size never fits all, but a carefully crafted BYOD policy arms you with the direction you need to manage mobile devices effectively and efficiently. Fill out the form to the right to get started.