Data Protection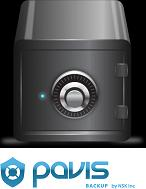 Backing up your data is only part of protecting your organization's data. Once your data is backed-up, you also need to have systems in place for retrieving the data. Will your data reside off-site in the Cloud, or on-site in a Private Cloud?
NSK provides scalable solutions for your data protection that seamlessly integrate into your current infrastructure, while providing rapid recovery time should a data loss occur.
Pavis On-Site
Pavis© On-Site is an all in one Backup Disaster Recovery solution. A simple Pavis Unit is added to your current IT infrastructure to continually back-up your data.
Pavis Cloud
Harness the power of the Cloud without sacrificing complete control of your data. Pavis Cloud combines the simplicity of NSK's backup recovery system, Pavis© On-site with the efficiency and scalability of the Cloud.
Contact Us