Netflix leads public Internet companies with the fastest-growing stock prices in the last year.
One year ago, on July 27, 2012, the stock closed at $58.92 per share. It is now at an astounding $347 a share a little over a year later.
Amazon has recently gone up 8% this quarter.

n">Amazon.com Inc posted a narrower quarterly loss and grew sales by a better-than-expected 24 percent on Thursday as it expanded aggressively at home and made inroads overseas, sending its shares up 8 percent.

Zynga has recently gone up 13% this quarter.
Zynga Inc said it expects a full-year profit after reporting better-than-expected third-quarter results due to cost-cutting and a renewed focus on mobile games and core franchises like "Zynga Poker" that lifted shares 13 percent.

Microsoft shares are up 7.4% this quarter.
Microsoft Corp cruised past Wall Street's quarterly profit and revenue forecasts on Thursday, helped by strong sales of its Office and server software to businesses, sending its shares up more than 5 percent after hours.

This chart shows how hot internet company stocks got over a year from summer 2012-2013.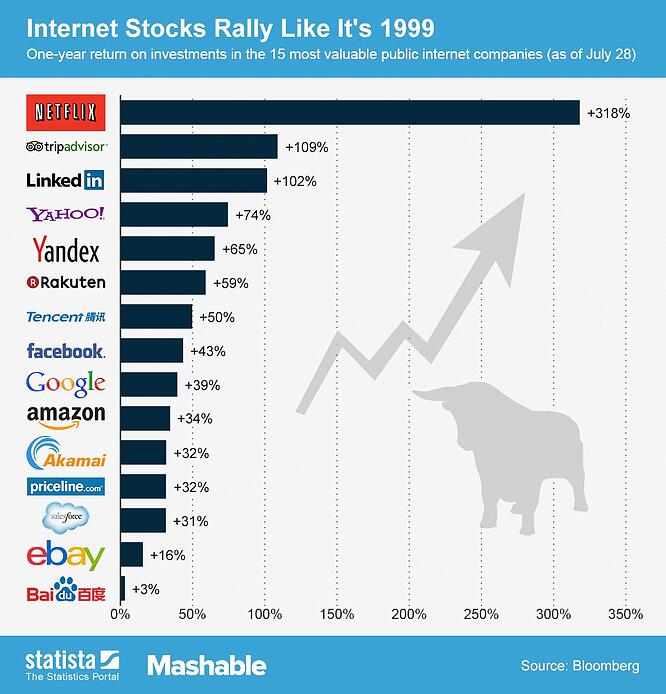 In 1999 the hot sector was, of course, technology. There were almost 300 Internet-related IPOs that year, and stock prices were soaring. Thirty-two tech companies made the list in 1999, followed by 37 in 2000, and 35 a year later. This year's assemblage, which numbers 21, boasts semiconductor makers, Internet companies, and cloud-computing providers, but only two true software companies.
Among the steadiest performers, particularly when the economy has been at its weakest, have been health care companies. Hospitals and drug companies have typically gained favor with investors in tough times. (After all, you'll defer buying a car, but it's presumably harder to put off, say, open-heart surgery.)
Here are the best stock performers by industry: