Now that CES is over, we are all anxiously waiting for the thousands of gadgets showcased to hit the market. Of the eighty or so tablets that were displayed, there are three soon to be released tablets that I am especially excited about.
These three tablets all have a rumored release date of March 2011 (Spring Fever, I guess) and all have the potential to make a big splash at the enterprise level.
The Samsung Sliding PC 7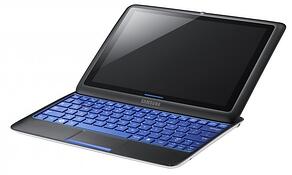 The Samsung Sliding PC 7 has to be one of THE COOLEST (professional opinion here) tablet offerings and I can't wait to see it in action. What is different with this tablet is that you can actually slide the tablet screen upwards and lock it into place revealing a physical keyboard that transforms it from a tablet device into a netbook.
It runs Windows 7 Home Premium with an option for Windows Professional (another plus for enterprise capabilities). The best thing – when in tablet mode, users can access a complete tablet interface with large icons for apps and web browsers. However, when it is placed in "laptop" mode, users are presented with the full functioning version of Windows 7.
I love the idea of having two in one; a tablet for media consumption (eBooks, movies, etc.), and a full-fledged netbook for when you need to be productive.
The Blackberry Playbook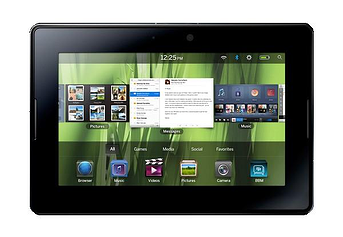 A strong contender enterprise level domination, the BlackBerry Playbook is ideal for organizations who utilize a BES (BlackBerry Enterprise Server).
Out of the box, the tablet automatically syncs with BES, meaning any mass deployment should be a fairly smooth integration. Users can also wirelessly sync their BlackBerry phones to the tablet to sync emails, calendar events, and even use the phone's 3G connectivity (eliminating the need for an additional data plan).
HP Palm WebOS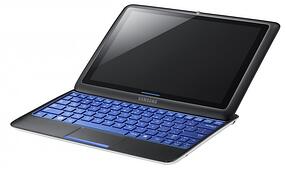 I've also heard it called the HP Topaz, the upcoming HP Palm Tablet is rumored to boast a dual core 1.2 GHz Qualcomm Snapdragon-based processor. With a screen that is just under 10 inches, this tablet is a pretty solid effort. I will be interested to see how well the Palm WebOS operating system is received.
I have heard though that this tablet will allow for BlueTooth tethering, which means users would most likely be able to sync the tablet with their Blackberry or other smartphone and utilize their cell phone data plan.