Microsoft Office 365 was released only a week ago, but it already is getting mixed reviews. As an online based version of Microsoft Office, it initiates the company's plunge into software as a service (SaaS.)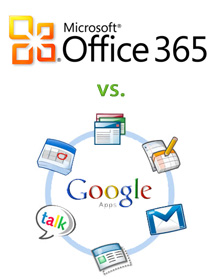 Who are some other main SaaS hitters? Google is a major one. In fact Google Apps has been running for a year already, and even parallels a Chrome extension store.
So what's the fuss all about? There must be something since it didn't take Google long before it criticized the new product. The day before Microsoft Office 365 was released Product Manager Shan Sinha attacked Microsoft Office 365 claiming that with Google Apps users can "work with multiple people in the same document" and " need to buy additional licenses to work with others."1 But doesn't Office 365 do practically the exact same thing?
I found myself lost within the thick layers of the internet and these applications. So before I became caught between a full on SaaS war, I created a list of my likes and dislikes between Google and Microsoft:
Microsoft Office 365
Likes:
Software I can trust. Microsoft has been dominating the software world since the dawn of the computer and has consequently created most of the industry's standards as well. I personally grew up using Microsoft software and cannot see myself straying away and don't have a reason to. Especially since Office 365 has continued its consistency within the apps.
No need to license. Finally we're free! With cloud computing, Microsoft is able to release new updates and host all of the software online. This eliminates the costly software licenses and the need to repurchase and update the product.
Multiple editions and versions. As usual Microsoft is determined to provide you with a package specific to your needs. With three editions (Small Business, Enterprise and Education) and several versions within those, it shouldn't be too hard to find an agreeable one.
Dislikes:
Limited to just Office. It syncs well with the offline versions, but that's the catch! You have to have the offline version of Office and Windows XP or higher before you can modify documents.
Just for Microsoft. Microsoft 365 was built primarily for PCs running microsoft software unlike Google Apps which is compatible for all computer types.
Too new to tell. A lot can change for Microsoft depending on the business model. If it can offer the variety of additional applications like Google, then I don't see why this shouldn't work out. It will be interesting to see how the company develops from this.
Google Apps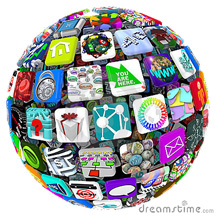 Likes:
Going beyond Google. Not only are there thousands of applications ready for your use, but Google Apps hosts more than just ones developed by the company.
Four different editions. Google hosts application solutions for different uses. You choose between Business, Education, Government or Nonprofit editions.
Cheaper. Google's service only costs $5 per month which is just shy of Microsoft's cheapest edition and there is no commitment. However, Google Apps features thousands of other apps that vary in cost.
Dislikes:
It's not Office. It can be hard to switch when there isn't anything pushing me! I need my staples: Word, OneNote, Excel and PowerPoint and I don't know if Google can substitute them.
Too much going on. Just as the doodle changes, so does Google. It seems like every week there is a new feature added to the site. The oversaturated list of services it provides naturally makes me believe that they are about quantity over quality. Also, I would need help navigating to my apps in between all the clutter that already exists on my chrome page!
Is it compatible?

This is more of a question than a statement, but what are the different Google Apps compatible with? I understand Google's reasoning that the App store was built for the internet and not for a desktop; however, it is safe to say that most users are heavy software users. So if you are a Microsoft user, wouldn't it be a smoother transition towards cloud computing by using a program built for your system?
One major question I have is "what's the obvious difference?" Microsoft has increased its competition with Google with this new release; however I cannot determine if there will even be a clear winner in this game. I believe that users will naturally choose one over the other depending on their specific needs and/or biases. Also, both companies claim that they are the best tool for small businesses. Who do you believe? Do you see any differences between the two services that may determine the "winner"?
Lastly, I love how both feature easier collaboration and communication capabilities, but remember, it won't make a difference unless you have internet access!
References:
http://www.crn.com/news/cloud/231000498/google-draws-first-blood-in-pending-war-with-microsoft-office-365.htm?cid=nl_cloud&itc=refresh1