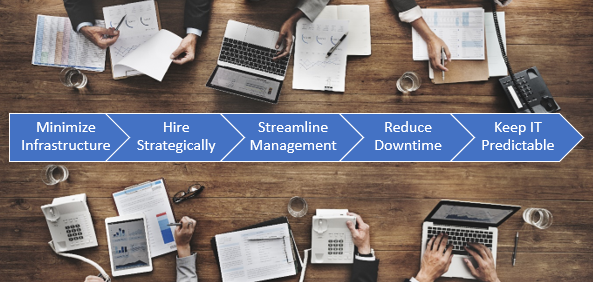 Outsourcing IT services might sound contrary to saving on expenses, but Managed IT Services are designed to give you the solutions you need at the budget you want. CFOs who made the switch are seeing cost reductions while improving their competitive edge.
1) Minimizing Infrastructure
Acquiring a state of the art IT infrastructure requires investment in hardware, software, and a team of experts. With Focus Technology, you can save yourself the overhead cost and receive unlimited Help-Desk, along with complete monitoring, maintenance and support – plus tons of add-on options to create a comprehensive IT solutions package that is tailored to fit your organization's needs.
2) Focused Hiring
Utilizing external IT services saves you the time, money, and training that would be necessary to create your own team of experts. With Focus Technology, our Managed Services package becomes an extension of your team, allowing you to focus on hiring for the core essentials of your business.
3) Streamlining the Management Team
With your IT services outsourced, you're given the financial flexibility to enhance your internal communications and expertise by adding management where it matters. We understand the competitive landscape and we've created an all-inclusive base package and a comprehensive IT solutions package to fit your organization's needs. By taking advantage of a package, you can avoid hiring additional management to oversee an IT department. Focus' team of Boston-based vCIOs provides expert guidance around technology strategy. Your dedicated vCIO takes accountability for identifying challenges before they occur, recommends solutions that align with your business strategy and frequently meets on-site with key stakeholders within your organization. From a wide range of data center and high-performance networking solutions to security, we'll have your IT needs covered and you can keep your management costs to a minimum.
4) Reducing Downtime
Maximizing productivity is the key to increasing your profits. Cut out unnecessary downtime by taking advantage of the sophisticated systems that outsourced IT experts can offer. Not only will you be provided with an ingenious team and resources, but you'll have the comfort of knowing that your network is always functioning at its best and keeping your customers happy.
5) Keeping IT Costs Predictable
For the SMB implementing an in-house IT infrastructure is costly, but the technical issues that often arise within IT can cause an even larger financial headache. Frequently, IT problems appear suddenly and solving them can be a daunting task. Your business takes a hit when IT issues arise and they can't be solved in an efficient manner. To keep your company and clients happy, Focus Technology has cultivated an offer that includes a deep technical analysis, tailored to your business requirements, hardware and software implementation, ongoing support, and managed services so you can avoid unexpected expenses.
We Managed What We Sell
Founded in 1997, Focus Technology Solutions offers expert Managed IT Services and enterprise-level technology solutions that address today's most demanding business challenges. Whether you need short-term technology expertise or fully outsourced IT services, our experts are ready to help. From infrastructure planning to help desk services, we support all of your IT needs. We offer two defined managed services packages: all inclusive managed services and shared support. We can also customize a managed service package to meet your business needs and budget. With Focus Technology Inclusive you get unlimited Help-Desk, along with complete monitoring, Managed IT Services and maintenance, plus tons of add-on options to create a comprehensive IT solutions package that is tailored to fit your organization's needs. We recognize that some companies need support or staff augmentation in specific areas. Whether you need support with application management, or you want a bi-annual network health check to make sure your network is running smoothly, we are here to help. Please fill out the form below and company representative will contact you as soon as possible to further discuss the details and cost-effectiveness of our managed services package.