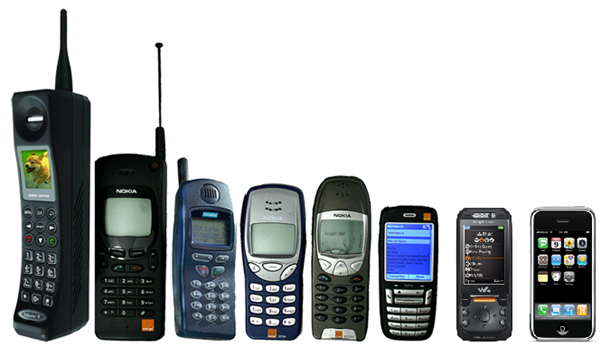 Mobile devices and smartphone technology are often taken for granted. While this notion can leave us feeling naked without our iPhone or Samsung Galaxy in our right pocket, it can also hinder our appreciation for the challenging development of these devices over time. Consequently, it is important to remember the primitive flip phones that we owned only five to seven years ago and to recognize the benchmarks that were reached through a taxing process of innovation. Furthermore, the consideration of the problems that were solved and the novelties that were implemented by progress within the field of mobile devices permits us to create a realistic image of what we can expect from our future smartphones. Mobile device technology should not be understood in an isolated context. Instead of simply reflecting upon what we can and will be able to do with our smartphones, greater value is extracted from contemplating how mobile device technology will interact with coinciding technological development.
Although the origination of telephone technology was an essential component of creating a system of communication from one location to another, mobile devices themselves began with the inception of the handheld receiver, or "walkie-talkie", in the late 1930s. This technology, however, could not operate while its user was moving so it was quickly rendered obsolete in the 1940s by more dynamic devices. On June 17, 1946, the first mobile phone call was made using a large device built into a delivery truck and a phone service created by Bell Systems, which would eventually become AT&T. Between the 1940s and 70s, cellular technology continued to improve and the development of cellular towers began. On April 3, 1973, the first mobile phone call from a mobile device was made by Dr. Martin Cooper of Motorola, and by the 1990s, mobile phones were becoming mainstream. In 1993, IBM made the first movement towards digital smartphones and in March 1997, the PalmPilot was released. Although the process from digital mobile devices to today's smartphones appears seamless and straightforward, there were countless problems that possessed consumer mobile devices throughout this period of development. When mobile technology became a reality, functionality was not included as a package deal. Nonetheless, it was improvements in performance, connectivity, and the user experience that turned today's smartphones into a conceivable possibility.
While cell phones began as a method of facilitating verbal communication, the expansion of mobile technology's capacity grew from the demand for information management and exchange. Once individuals became capable of calling each other from any location, an avenue for transferring different modes of valuable information was founded. This realized need for alternative methods of communication that correspond with practical circumstances is the origin and explanation for several of the applications of today's mobile technology. With this intention in mind, mobile devices began being built to support textual communication, graphic communication, video communication, data sharing, and other forms of information exchange. Similarly, as mobile technology interacted with additional industries such as software development, video game technology, the Internet, IT, business solutions, and general consumer demands, mobile applications expanded in their versatility. Each application solved a noted problem or met a particular demand therefore adding to the capacity of mobile devices and allowing them to fill their contemporary roles.
The establishment of devices that follow human beings everywhere that they go has been both a cause and effect of additional strides made in the field of technology. Although the ability to call anyone from anywhere is certainly a considerable purpose for keeping a mobile device on hand, it is not necessarily the only reason that most of us are afraid of leaving our cell phones at home. As mentioned before, the concurring development of new technologies alongside mobile devices has led to the implementation of high-quality cameras, computer graphics technology, Internet capabilities, cloud technology, and information systems directly into mobile device composition and applications. With this much power in our pockets, forgetting our cell phones can mean a lot more than mere inability to place a call.
On the other hand, however, the carrying of mobile devices with us everywhere that we go has directly contributed to technological development. The Internet of Things is made possible by the ceaseless interaction between individuals and the web. Mobile devices facilitate these interactions and help maintain the conversation of the Internet. Smartphones also include a collection of sensors and monitors that allow data to be constantly generated. If cell phones remain by our sides, they are able to gather and share unique information that has never before been captured on such a large scale. Furthermore, with a greater number of points of contact between mobile devices and the Internet, the data that are collected can be shared and made actionable. As we continue to see mobile technology involved in a technological exchange with other industries, alternative technologies that presently seem irrelevant to the smartphone industry may eventually find their place as the feature of a device that is slowly having less and less to do with the act of making a phone call.
Sources
Greengard, Samuel. The Internet of Things. Cambridge: MIT, 2015. Print.
Images
http://theveon.com/wp-content/uploads/2015/07/evolution-according-to-mobile-phones.png